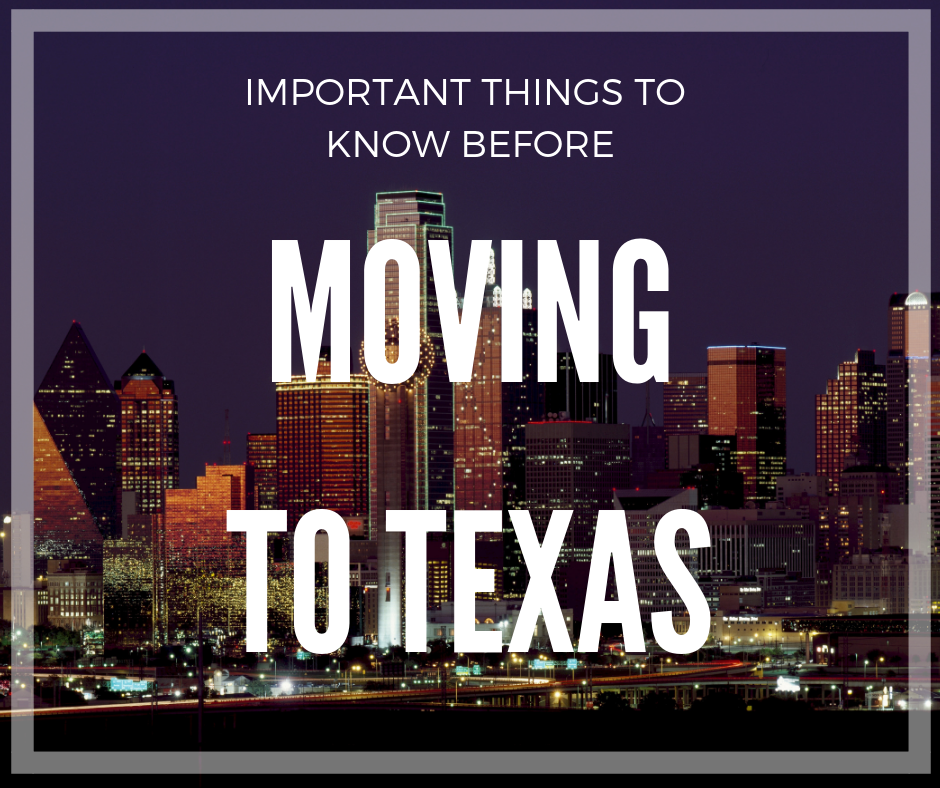 Important Things to Know Before Moving to Texas
Whether you're looking for a new job in the tech industry or enjoy spending as much time as possible in the great outdoors, there are many reasons to move to Texas. This is a fun, dynamic, beautiful, and divers state that has a little something for everyone.
Of course, moving to a new state isn't something most people can just do at the drop of a (cowboy) hat. So, let's look at some of the reasons so many people choose to move to this flourishing state and what you can do to make the transition easier.
Why Move to Texas?
From the unique cuisine to the growing job market, there are plenty of things that make Texas a good state to move to.
We are famous for our BBQ, but that's only scratching the surface. Yes, the BBQ is amazing, but so is the TexMex, Queso, Chicken Fried Steak, Breakfast Tacos, Shiner Bock beer, and much more.
There is always something to do here. If you need an escape for a weekend, you don't have to go far. National parks, the gulf coast, state fairs, rugged mountains, beautiful lakes, and much more offer plenty of options throughout the state.
If you're more interested in work than play, we also have a record of job growth here, particularly in the tech industry. Austin is often known as a center for tech companies, but the business-friendly regulations and lower taxes also make the rest of Texas very appealing for many types of businesses.
And, of course, one of the biggest reasons people move here is the affordable living and real estate. Obviously, prices vary by region, but in places like New Braunfels and Lake Dunlap there are a wide range of homes that can fit in a variety of budgets.
We make it easy for you to search available properties and find the one that matches your needs. Whether you're interested in the big city of Houston or Dallas or prefer something on the quieter end (but not too far from all the fun), places like Lake McQueeney and other small towns may be just what you need.
Things to Know about Texas Before Moving
It's going to get hot. That much shouldn't surprise anyone, but it's also important to remember that the humidity varies greatly from one region to the next, so you may be facing a very dry or a very sticky heat.
Texas is a state full of character – and we mean that in several different ways. The people are full of character, the buildings are unique, and the rugged outdoors are like nowhere else in the country.
This is also a highly educated state, with a wide range of education options. Texas Tech, Texas A&M, and others offer a lot of great opportunities for new and returning students.
Music – especially in Austin – is built into the fabric of the state. Americana, blues, country, rock or anything in between has a home here, and residents can't help but experience it everywhere they go.
And, of course, a big state is home to big business. The energy sector in particular has played a big role in the growth of Texas. There are more than 20 oil, gas, and other energy companies here that rank in the Fortune 500. (In 2017, Texas placed 50 companies in total on that list.)
Relocating to Texas Checklist
Buy a cowboy had. (Just kidding.) (Sort of.)
Explore the new city – Do this in person, if possible. Maybe you can't afford the time or the cost to travel out and explore the area, but if you can, it will be well worth it. Either way, you can contact Joshua Downey to get more information on the local area.
Learn about life in the area – Find out about the schools, the hospitals, the childcare options, and the nearby conveniences that make your stay in a new city enjoyable.
Create a moving budget – Whether moving yourself or hiring a company, be sure to plan for the unexpected and budget accordingly. You need to budget for truck rentals, boxes and other moving supplies, pizza for everyone who is helping you pack up, cleaning supplies, and more. You should also budget for unforeseen events. Maybe you have to spend an extra day in a hotel along the way. Maybe you have a flat tire. Maybe… well, there are too many maybes to list them all. Just make sure your budget has a little bit of leeway to cover any emergencies.
Cancel services – Cancel your utilities, internet, cable and other bills and subscriptions that are tied to your current location. Once you get to Texas, you'll have a range of options for getting set up in your new home.
Get rid of deadweight – Moving to Texas is an opportunity to clear out the things that are really just cluttering your current home. Start fresh. If you haven't used an item in the last six or seven months, maybe this is the perfect time to leave it behind.
Update addresses – You may not need the same cable and internet services, but a lot of your payments are going to follow you. So, make sure your bank, cellular provider, insurance agents, and others have your new address. Be especially sure to update your driver's license and forward your mail.
Check out multiple moving companies – You're going to leave a lot of your important possessions in the hands of people who don't have an emotional tie to them. Take some time and get some customer reviews of all your potential moving companies. Get a few different quotes, but don't make your decision based on the lowest offer. You need an affordable offer with a history of reliable service.
Keep these things in mind as you pack up and get ready to buy a home in this great state. If you have questions or concerns regarding moving to Texas, get in touch with Joshua Downey today. He is ready to help make this transition as smooth as possible.